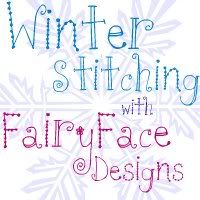 I have been reading quite a lot of bloggers who are joining in with the Winter Stitching List with Sarah at
Fairy Face Designs
. I saw the summer one, but didn't join in because, whilst I am a bit of a list person, I'm also a bit of a control freak, and if I don't do everything on the list, I stress out. But as a purely academic exercise, I started to write out a list of what I wanted to achieve this winter. It really made me focus on what I really wanted to do as opposed to what I think I wanted to do. So having written the list, I thought I'd join in.
Pause to feed the animals, before the cats eat me!
Back, but no doubt will have to shoo the dog from the cat food.
Here goes then:
Definite will do and will finish
Finish the Table Runner for the Modern Christmas Table Runner swap, plus a little Christmas decoration
2. Finish Sherbet Pips quilt - boys version for my friend's daughter
3. Make a girlie Sherbet Pips in anticipation of two babies due next year
4. Make a "Pay it Forward" gift for my parnter - I think I know what I'm going to do now but it will have to remain a secret until it's done and sent
5. Make a
Supernova Quilt
for a friend. It's not exactly a commission, because she's not paying me, but she did ask if I would, so it's almost a commission. I really love this design and was going to make it for myself. I've aleady ordered the "Hope Valley" full set of FQs (another story there) and you never know, there may be enough material left over for me.
6. Finish a cardigan for myself. This is a long term, sitting in front of the telly, winter project
7. Crochet a romper suit for my friends daughter - a holiday project
8. Knit or crochet a couple of hats for another friends daughter who apparently has a big head! Also a holiday project
9. Make some new cushion covers for the lounge, including a cathedral windows cushion
10. Make a bag - tote sized
11. Make something with a zip
12. Make a tunic top using the Shearwater pattern from "Make it Perfect"
13. Make some small things to improve my basic sewing skills - bags, baskets, a dog lead. etc etc.
14. Make a quilt for our bed - maybe, just maybe, join in a bee to accomplish this.
15. Quilt or crochet a blanket for a friend in Oz who is due to have her baby in April.
17. Learn a little more about Blogger and update my blog with a new look.
Do you think that's enough? Bear in mind that winters here are fairly harsh, and when there's 3 foot of snow outside, or it's minus 15 degrees, there's not much opportunity for outside activities. Dog walking is carried out at speed, but with care. Bike rides are only for the hardy. And gardening is none existant. So hopefully, I should be able to achieve a fair amount. We'll see.
Sitting here in October, with winter just around the corner, I really look forward to March when we can review what we have managed to do. It will also be the beginning of a new year in the garden. We are just in the process of shutting the garden down for the year, but before we know where we are, it'll all be kicking off again.
Here's to a good winter for us all
xx