It's been so exciting round these parts I completely forgot about revealing my
Le Challenge
make this month.
Firstly I went to get my machine re-repaired yesterday. I've not tried it out yet, but it worked OK in the shop.
Secondly, yesterday was a red letter day here chez quiltova. We were finally connected to the main drains! Yes, that is VERY exciting. If you live with a septic tank, you will appreciate just how brilliant it is! I could talk about it for hours, but you have to be a septic tank owner too, otherwise you will drop off to sleep! And I know, all you non septic owners will think this very sad. Never mind!
On to my make for the maritime theme of this months Le Challenge. Now I'm not really a Hello sailor sort of girl, nor do I really do blue and white, so I was struggling a bit. Then I found this block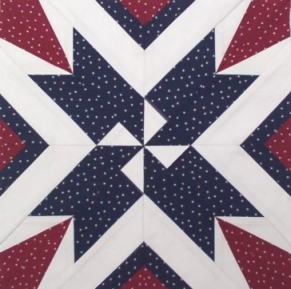 It's called The Marines Star and appears in
Quilters Cache
and is made by Michelle. Obviously it's patriotic in red white and blue, but not really my colours. So I dug out some pinks and greens that will go with the colour scheme in our lounge, and made my own Marine's Star
I like the back side of a paper pieced block - it looks so tidy!
And I've got a nice bit of Modern Meadow put aside for the back
As you can see, I haven't actually finished making it into a cushion yet, so I don't know if Lucy and Nat will allow it, but I have a good excuse. When I go to the Fat Quarterly Retreat next month, I am taking Mandy's hand quilting class, and I shall be taking this with me to work on.
Why not hop over to
Le Challenge
to see what everyone else has been making. There's all sorts of different things.