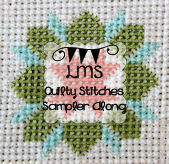 A few weeks ago, just before I went to my sisters, I was looking for a little hand sewing or knitting project. I happened across
this cross stitch sampler along
(that runs off the tongue nicely, doesn't it) over with Little Miss Shabby.
It's a cross stitch sampler, using many of the blocks we regularly use when making quilts. I chose to use a pallet of sea greens and blues, with a splash of pink. I must admit, I
stole this off
was inspired by the colours
Helen's Sew Euro-bee-an quilt.
Here's my pick of colours
I've been meaning to buy one of these thread organisers for ages, and joining this stitch along prompted me to do it. My threads looked so untidy compared to everyone else's!
And progress so far
These blocks take a surprisingly long time - well, they do me anyway! Especially the second one. It's been a while since I last did any cross stitch and I didn't realise just how much my eyesight has deteriorated! Also, that diagonal thread at the top is an aide-memoire as to which way the first stitch should go, as I kept getting it wrong. So anyway, the first three blocks are not the finest examples of stitchery, but now not only do I have my aide memoire, I also I have also had my eyes tested , and a new pair of glasses especially for close up work, and I hope the next few blocks will be better.
There are some lovely samplers being made - you can see them either on Instagram (hashtag - which my czech laptop doesn't have) quiltystiches o
r on flickr
.